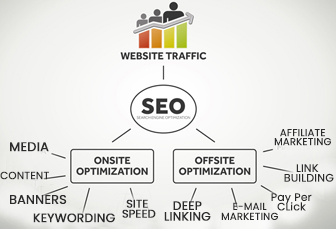 To make a business succeed online, you need to focus on various aspects of the website development process right from the design to interface and SEO. Visuals attract more target audience in comparison to the content and functionality. With a website rich in unique graphics and 3D animations, you can drive the attention of potential audience towards your business or brand. Other than a clean and clutter-free design, what plays a great role is how you are connecting with or attracting the visitors or buyers.
For small business owners, it's often challenging to drive the traffic towards their service as the effect of their presence is limited to a local region. Through engaging new customers or visitors may take some time, you can achieve quick results by taking advantage of online marketing techniques such as SEO, social media, blogging and more.
Here are some easy ways to start bringing online traffic to your estore or website:
Newsletters

The foremost step to start with is email marketing. By sending newsletters, you can inform online visitors and target audience about your goods, services, discounts, offers and many other things that would attract or impress them. Create innovative and easy to understand newsletters with an option of subscribing to them. This will act as an indispensable tool for the promotion and success of your business.

Search Engine Optimization (SEO)

SEO, Search Engine Optimization is a popular technique that allows the businesses to rank higher on the search engine result page based on the website links, appropriate keywords and content uniqueness. If your business website manages to appear on the top results or the first page itself, you can witness more conversions, clicks and leads. Moreover, it makes your business visible to the local and global clients by following the latest SEO strategies, thereby increasing the amount of online traffic.

Social Media

Never avoid social media if you are willing to attract the potential buyers and visitors towards your brand or services. There are several social networks, such as Facebook, Twitter, Instagram and Google Plus out there that can turn out to be helpful medium to connect and communicate with the target audience. Whatsoever services or products you sell, just advertise or post their details on the social media channels to gain the attention of the loyal customers.

Blogging

When it comes to gaining popularity, regular blog posting can do wonders. No matter, you own an ecommerce store or a WordPress website, adding information which covers significant keywords related to your industry or domain can help in improving your online brand recognition and even SEO ranks. The more you blog, more will be the indexing and better will be the ranks. You can also promote your website on other channels via guest blogging, thereby improving the visitor traffic.

PPC Advertising

If you are ready to invest a few dollars to target the potential customers and website visitors, Pay-per-click campaigns can help a lot. With this paid advertising service, your business website will climb the top stops on the Google SERP. This will simultaneously lead to more clicks and conversions.
So, these are some ways to improve or drive more online traffic towards your business website. If you are looking for a full-service web design company in Edmonton, feel free to consult our experienced website designers at FutureWorkz.