Unique Landing Page Design services in Edmonton | FutureWorkz
One Look can Drive the Sales
Landing page is seen for a few seconds only and these decide the future of your sales campaign. So, it is a crucial part of your business website where visitors appear after clicking on PPC ads. Landing page design plays vital role in significantly your business sales.
Universal appeal with accurate content matching the keywords is what makes a landing page successful. Landing pages are sure shot way to increase site traffic. These pages not only offer higher conversion rates but also increase visual appeal of website.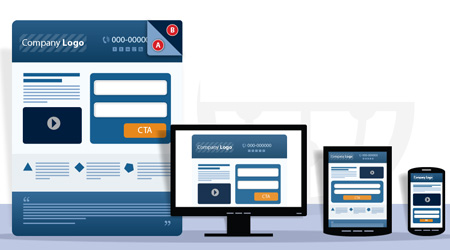 Effective landing page has to deliver enhanced conversion ratio – the process of turning visitors into customers. To find the perfect combination of landing page elements that boost conversion is done through testing.
Multivariate and A/B testing are done to decide which elements work in your favor. Landing pages are tested with different layout, content, images, and headings to achieve perfect combination.
Tactics Adopted To Create Effective Landing Page

Services Insight
FutureWorkz creative designers create landing pages in Edmonton to showcase your brand/services that capture visitors' instant attention.

Eye-Catching Elements
Appealing design elements make landing pages go viral. People don't want to read long content – but eye-catching visuals.

Social Media
Social media buttons for Twitter, Facebook, Pinterest and more allow visitors to immediately share the latest deals/offers.

Contact Form
We ensure visitors easily locate contact or sign-up form. It is clearly visible and easy to use and quick to convert.

Descriptive Landing Page
Landing page has to describe services/products in few but effective words. Action words do the magic trick here.

Attractive Images
Webpage having beautiful images always attract visitors. Our designers ensure relevant images accompany effective content.
Relevant content
Length of the form
Visuals effects
No distractive heading/link
Effective sales features
User-friendly layout
For Landing Pages That Convert, Contact Our Experts.