A business card is not only related to carrying your business & contact information, but it an excellent tool to make your effective first impression on others. A perfectly designed business card also defines respect for a person and business. While a poorly designed business card may be unable to get into the notice of anyone. Suppose, you are the one handing out your business card, surely you will expect that your card should be taken seriously.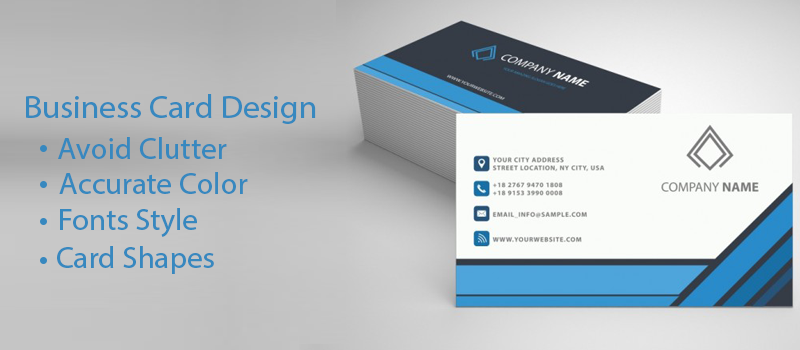 Actually, you can come into the notice of people only if you have designed a unique or eye-catching business card. There are few secrets behind designing a business card and these secrets are well known to the professional designers. It will be better to design a rough template by your own to give an idea to the professionals. In order to design a card that should be unique in the term of color, font and look, you need to follow the below tips.
10 Business Card Design Tips:
Avoid Clutter

The more simple card you design more attractive it will be. Follow the simplicity when designing a card as it should include to the point information which people are looking for. Avoid adding the unnecessary details like type of services or products that your deal for. No one would look at the card that is overflowing with lots of information. Add your name, designation, contact info and branding. That is enough for creating an attractive business card.

Fonts Style

Make your business card easy to read and for this, you have to choose the font that should be simple. If you explore the font styles, you will find a big array, even some font styles are hard to read. It is important for you that your card should be read. So, you have to put the accurate style and sufficient size fonts.

Images

Images on business cards are possible, but you need to avoid too many colorful pictures. Remember, the original or HD image is a high resolution that should be printed without fuzziness. If you are thinking to add a graphic, use vector graphic as a priority. Because, the vector graphics are the icons and pictures that can be shrunk or magnified without eliminating the quality. One is always suggested to give preference to the company logo rather than other pictures.

Accurate Color

How and what color you choose, it makes a big impact on the business card look. Majority of users always go with complementary colors. Being a business owner if you order for a card designing, first ask the designer to show options.

QR Codes

QR codes contain too much information in a small space. You can use them to direct the people towards your website. There are too many free QR code generators and apps which you can use on your mobile or computer. But, you have to be sure that the QR code should work by using it yourself before getting it printed.

The Backside Of The Card

Don 't leave blank to the back side of the card. You can use it by either putting company name and logo or by placing the QR code. This can help you to avoid your card front hotchpotch. The restaurant or companies with several products, add the menu and products list in the back of the card.

Embossing

Embossing can add enough info to a business card. It's not only about the letters, but you can create patterns or emboss your company logo rather than printing it. Keep one thing in your mind that your embossed patterns should have a definition. If it is overboard, your card will look like a crumpled paper.

Card Shapes

Don't always stick on the standard rectangular shape. Be creative to design custom shapes of a card that leave a lasting impression. Even, the small changes like rounded corners can also make your business card stand out. The businesses dealing with cakes or musical instruments often use their specific product shape to design a card. Moreover, you can also design the folding, coaster-sized pull out cards and many more.

Finishing

When it comes to the finish of the card, the shiny printed cards are attractive unless you design it. People also go to choose a matte finish and design it with flat lettering. You can choose the different finishes that mimic the other materials for creating a special design.

Material

A non-standard material gets into the notice of the people easily. There are many types of material than just using a paper. Alternatively, you can use the material like, metal, ceramic infused paper, plastic that can also make your business card unique.
The nutshell is, people always pay attention to the unique things. So, you have to create a business card that should be different. Surely, the above-stated tips will help you in creating a well-designed business card. If you are looking for the professionals help then reach FutureWorkz. Our team of professional graphic designers in Edmonton is well equipped with advanced tools and techniques to design the ultimate business card. Feel free to contact for creating your business card.