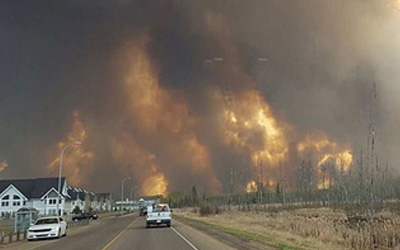 Fort McMurray, a beautiful sanctuary of Canadian living in Alberta, is facing devastating wildfires that has resulted in complete evacuation. Unfortunately, the wildfires have caused immeasurable damages speaking in economic, geological and wildlife terms. The devastation cannot be described in words.
In their time of need, we stand united with Canadians in Fort McMurray. In the wake of this disastrous aftermath, we would like to extend our deepest sympathy for their losses. We express our sympathy to the residents whose lives have been turned for the worse by the devastating blazes in Alberta. We also salute the brave firefighters who put their lives at risk to serve the community as well as the community spirit of the locals who have profoundly helped in the rescue work.
We, as Canadians, stand with you shoulder to shoulder in these painful times and will do our part in helping our fellow Canadians recover from this tragedy.
We are optimistic that Fort McMurray, a quintessential Canadian region, will rise from this calamity and once again realize its potential. The hard-working spirit of Canadians will definitely pave the way to revitalize Fort Mc Murray.