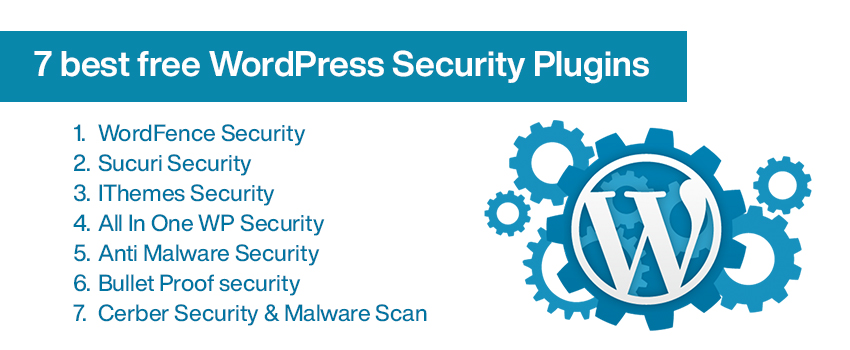 If you have a WordPress website, there are very many chances to get infected by malware at any time or might get exposed to heavy risk. These days cyber-attacks are caused because of outdated plugins and unsecured hosting. As per research, the average website attacked 44 times every day, you can realize how many chances are there to get your website attacked.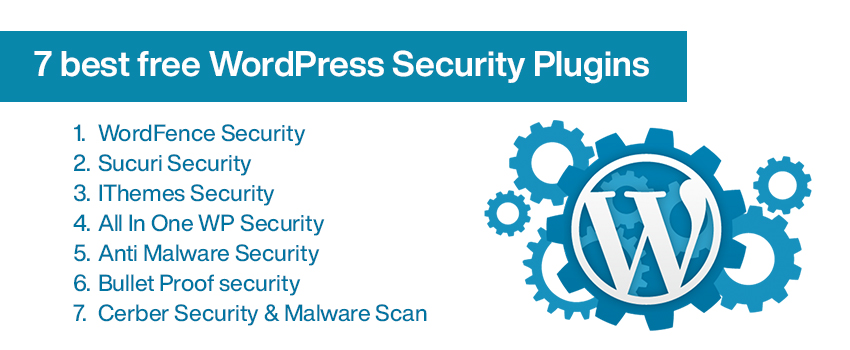 Such kind of security infringement can cause huge damages to your website like you can lose data or access to your website. Hackers will destroy your website which will affect your SEO ranking. In the end, Your website reputation will be doomed. The most important, hackers can steal your data alongside your user's and customer's personal information.
That is why you should make some strategies to secure your WordPress website and for that, you need to install WordPress security plugins from verified sources. We have shortlisted 7 best free WordPress security plugins to protect your website and keep your data secure.
7 best free WordPress Security Plugins
1. WordFence Security
WordFence Security is one of the most popular WordPress security plugins with unmatchable features. It helps to protect your website from malware and threats to keep your website secure. They offer a free version, although they have a premium version also. It will automatically scan your core files, themes, and plugins for malware, also check bad URLs, backdoors, SEO spam, malicious redirects, and code injections. If WordFence finds any kind of malware, it will send you an alert and also tell you how to fix it. You can also do scanning manually if you want.
2. Sucuri Security
Sucuri is also a famous plugin in the market which has gained huge attention because of its great features. Sucuri offers a free version for scanning your website, but to access all the features you have to buy a premium version of it. The free version is good for detecting malware but the premium version is best. The premium version offers you a firewall that will protect your website from any kind of malicious attack. The Sucuri plugin firewall feature is one of the most extraordinary features which will filter out bad traffic from your server and serves static content from their CDN servers.
3. IThemes Security
IThemes come with 30+  ways to secure and protect your website and are known as WP security. IThemes Security helps to fix website vulnerabilities, common holes and stop automated attacks. It strengthens user credentials.
Themes of other features are:
Detect hidden 404 errors
Brute force protection
Password enforcement
Detects bots
Google ReCaptcha and many more
ithemes is one of the best WordPress security plugins to secure your website from any kind of unwanted security attacks.
4. All In One WP Security
All In One WP Security is easy to use a wordpress plugin and offers great features to secure websites from all kinds of vulnerabilities.
All In One WP Security plugin Features :-
User accounts security
User login monitoring,
User registration security
Database security
File system security
Blacklist functionality
Firewall functionality
Brute force login attack
Prevention and many more.
All In One WP Security plugin offers a firewall which is categorized into  "basic", "intermediate", and "advanced" and you can apply the firewall rules as per requirement.
5. Anti Malware Security
An anti-malware security plugin is known to protect your website from various common threats or malware. It will automatically scan the website to remove known security threats, backdoor scripts, and database injections. But to access these features You have to create an account on the plugin's website. At present, It has over 200,000 active installations on the WordPress website. If you want to secure your website from any malware then install the Anti Malware Security plugin.
6. Bullet Proof security
Bulletproof security is also an wordpress security plugin which offers:
Malware scanner
Firewall
Login security
DB backup
Anti-spam and many more.
It has very useful features to protect your website from any kind of malware of threat.
The bulletproof security plugin offers some great features for security hardenings like security login, idle session logout, login protection, and database backup utility. As of now, It has over 60,000 active installations. If you like its features then install it.
7. Cerber Security & Malware Scan
Cerber Security is a security, anti-spam, and malware scanner for WordPress websites. It will help to defend your WordPress website against hacker attacks, spam, trojan, and typical malware. Cerber Security & Malware Scan comes with many great and strong features to keep your website secure. It offers a feature like
It prevents brute force attacks by limiting login attempts.
It tracks users and bad activity with flexible email, mobile & desktop notification
It also hardened WordPress with a set of flexible security rules.
So if you are looking for any plugin to protect your website from malware, spam and security breaches then use Cerber Security & Malware Scan Plugin.
Now you can understand how important wordpress security plugins are important for any WordPress website. These all above written plugins will help you out in securing your WordPress website from any malware, hackers, Threat or cyber attack. FutureWorkz hopes that our team and this article will help you to find the best WordPress security plugins FOR Your WordPress website as per your needs.