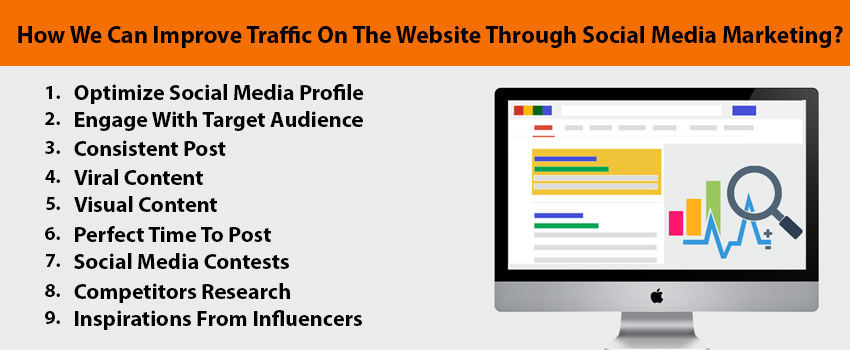 Facebook, Instagram, Twitter, etc- the trendiest platform for all brands and influencers to reach out to clients.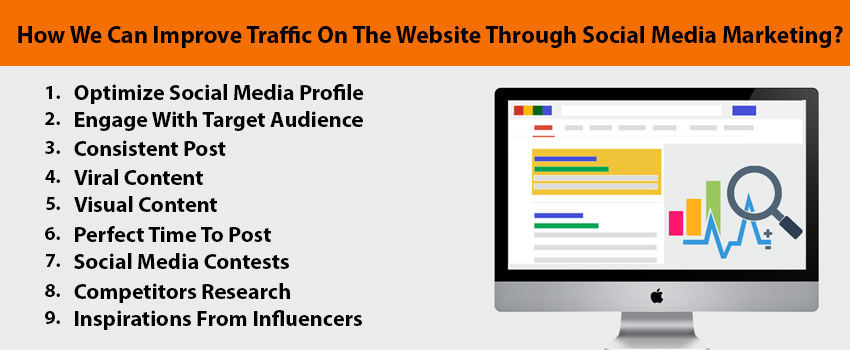 Why?
Simple. Because it has millions of active users on a daily basis. Hence, targeting them is easier and better than other platforms. But, the question is how can you increase your website traffic with these social media platforms?
Here are some strategies or social media tips to convert your visitors into clients.
Optimize Social Media Profile
Your social media profile plays a vital role while driving a customer to your website. It speaks about your brand. Optimizing it as per the recent fad is as important as optimizing SEO of your website. Your biography should contain appropriate keywords and filled with all the necessary details. A website ranks good if it is linked with your social media profile biography. It is an asset to your brand.
Engage With Target Audience
You think once you target your audience and attract them, it is enough. No, you have to keep them interested in your brand. The only way to keep them intact is to engage them with you and your offers. Get feedback for your services offered. Consistent engagement immediately leads to a traffic boost on the website and social media profile. Remember it is not about self-promotion but all to keep your audience attracted.
Consistent Post
You should be consistent while you post on social media. Upsetting your followers is the last thing you want to do! It is an excellent social media marketing strategy. How frequently you shall post your content depends upon:
Time Zone
Days in Week
Hashtags
Profile Bios
Target Audience
Content
Different social media platforms ask for the varied frequency of posts. For Twitter, it is 15 tweets a day; for Facebook, one post is enough; and for Instagram, 1-2 posts in a week.
Viral Content
To keep up with the recent changes in the world, you must be aware of the viral content. Try to revolve your brand message around this. Viral content is necessary if you want to increase website traffic. Not all posts can be viral. You have to be creative with the content and the images. Maybe go for a humorous or hilarious meme. Make sure it is fun and non-offensive or stir controversies.
Visual Content
The attention span of people is quote limited in today's times. Hence, no one actually reads what you write in those 300- 500 words. But when you express the same thoughts in a graphical way, you will say the clicks and impressions improve. Invest time and efforts to create visual content that speaks volumes about your brands, products, and services. Ensure to be unique enough to get unnoticed. Use vibrant colors, Hd quality images, infographics, story-telling images, etc.
Perfect Time To Post
Posting is not enough! To drive traffic to your website, you have to be aware of the users' active hours to target them when that time. It requires a lot of trial and error methods to finally have an understanding of the user. However, if you have a set of the target audience, reading their behavior is easy. Learn what they expect and when they are available to exhibit your products and offers in order to entice them to your website. It is not possible for a person to sit and post at 6 pm daily. Therefore, there are calendars or planners available to schedule your posts and publishing activity. It makes your work easier. You can even look at the insights to analyze how each post is working out for you.
Social Media Contests
Try to engage your audience on your page. Give out some offers or discounts. Or, start some poll, Q&As, and social media contests. There are exciting ways to engage your audience on your social media page or website. Such activities bridge the gap between your brand and audience. Quiz, pols, contests compels a visitor to like, share, and visit your website. In this manner, the user also becomes aware of your brand, products, and services.
Competitors Research
Never forget to keep one eye on your competitors. Sometimes, our competitors perform better and we end up worrying about it. Instead, you should analyze their efforts and changes brought about by those many clients. Use the online tools to understand the insights and performance of your competitors. leverage the social media analysis tool to have a deeper understanding. Gather ideas and performance metrics of your competitor's social media posts. Make sure to not copy your opponent. In fact, learn from them and create a unique campaign or strategy for your brand.
Inspirations From Influencers
Recently, influencers are creating a great impact among the users! Hence, you shall approach an influencer to showcase your brand too. They have a huge number of followers and attained good popularity on social media. They are called influencers because they can truly influence how their followers think. Influencers have a big network of followers. The key to building the best influencer marketing is to find the right influencer for endorsing your brand.
Final Thoughts
Social media is an unavoidable part of brands and people in general. Hence, our company, FutureWorkz, aims to bring this trendy platform to its utmost advantage; and thus helps our clients draw traffic to their website. We have a team of professionals who make each brand's unique social media marketing strategies. Social media can be a game-changer if used the right way.