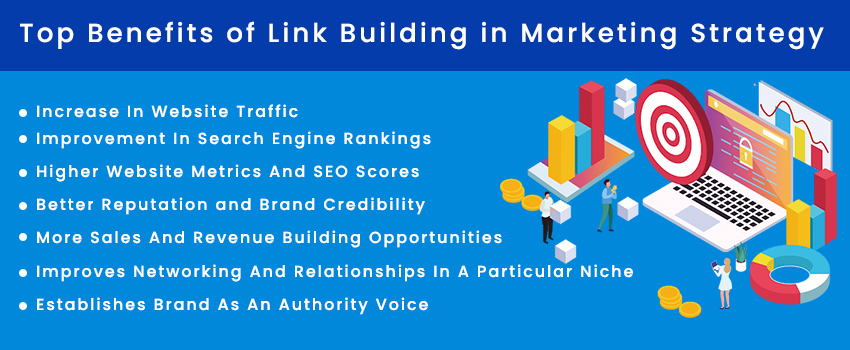 A website is incomplete without proper work on its link building. Every marketing strategy includes link building to make SEO and overall digital marketing easier for the business. And, there are so many significant and yet not well-known benefits of link building.
In the last few years, SEO is all about building backlinks that help in improving search engine rankings. Backlinks are one of the most prominent Off-page SEO. The SEO experts understand and agree that SEO is incomplete without backlinks.
Here are some benefits for you to know for link building.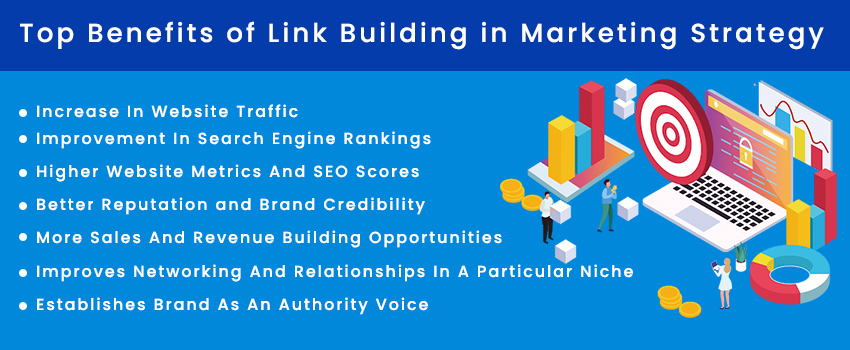 Top Benefits of Link Building in Marketing Strategy
Increase In Website Traffic
If you are looking to attract new customers or retain the old ones, link building helps in improving the customer base. With effective link-building strategies, the companies can reach out to the targeted relevant audience. As every business has its own niche, the customers are diverse too.
Improvement In Search Engine Rankings
Every SEO expert will tell you how important the search engine rankings are for the website. Moreover, they will tell you how important backlinks are when it comes to improving search engine rankings. Succeed in having more customers with more backlinks than your competitors.
Higher Website Metrics And SEO Scores
If you are aware of the digital marketing aspects and SEO scores and the lingos associated with these, then you must have heard about DA, DR, PR, Alexa rank, etc. Building more and more good quality backlinks will help in improving the website metrics and thus the SEO scores.
Better Reputation and Brand Credibility
As we already know that better Google ranking means better domain authority of the website. This ends up increasing the brands' reputation and credibility as it regards the quality of your website.
More Sales And Revenue Building Opportunities
With improved SEO rankings, this shows a higher number of people come across the website. Thus, it helps in improving the sales and revenue opportunities as it makes the digital marketing of the brand effective.
Improves Networking And Relationships In A Particular Niche
When you are well known in one particular field, you get expertise and an advancement over your competitors over a product or service. With the relevant backlinks, the website develops its Page Rank. Link building will open up vast opportunities to explore and play in order to prosper with brands.
Establishes Brand As An Authority Voice
Every brand wants to have the highest position in a particular niche. In order to reach that position or even retain them, backlinks are really effective. This leads the customers to trust more, improve sales and revenue, and boost branding for the business.
Are you looking for the sources to develop better link building in Edmonton? Reach out to Futureworkz today. The SEO experts realize the importance of building links in the site as well as create backlinks for better page authority. A good marketer always knows what's best for a brand or a business.